Product Description
SSC Controls
G Series
Foot Switch
Heavy duty foot switch with guard
SSC Controls
G Series
Foot Switch
Heavy duty foot switch with guard
Description
Designed for tough industrial and shop environments, the G-Series heavy duty foot switch features precise switching action, rugged die-cast aluminum construction that will not rust or break when dropped, a water / dust / oil / splash-tight enclosure, precise foot pedal action, and an oversized guard. These foot switches make it easy to turn electrical equipment on and off with the foot, freeing the hands to perform other operations or providing ergonomic improvement to a workstation.
Ideal for factory, shop, metalworking, iron workers, resistance welding, spot welding, man or boom lifts, pipe rollers, food processing, riveting, bending, hand tools, and many more applications.
Features
Oversized guard opening (5.5" high, 6.2" wide) for easy foot entrance.

High-capacity 20-amp Honeywell Microswitch or Omron switches.

Water / dust / oil / splash-resistant enclosure.

Suitable for harsh, wet environments when properly connected.

Tough die-cast aluminum construction will not rust or break when dropped.

Side cover flaps add extra protection of pedal lever and shaft from oil, solvents, and water.

Highly durable base with 5 mounting holes.

3/4"-14 N.P.T. threaded conduit entry for cable in back.

Powder-painted Safety Orange with 3M bumper feet.

Available with 3 pedal action types: Momentary, Maintained, and Anti-Trip.

Two-stage models ("-2S") have an additional force added in between activation of each switch.

UL/CSA/NEMA Enclosure Type 2, 4, & 13. IEC enclosure rating IP56.

Size (exterior dimensions): 9.2" L x 6.2" W x 5.5" H

CSA Certified and UL Listed to US and Canadian standards

Designed and manufactured under an ISO 9001 certified quality system.
Highlights
Optional Oversized Guard
Adds an 8" x 8" oversized guard instead of the standard aluminum guard. Crafted of 3/16" aluminum, this guard will not corrode or break and fits your metatarsal boot covers and large or padded boots. Note: This option is not UL marked.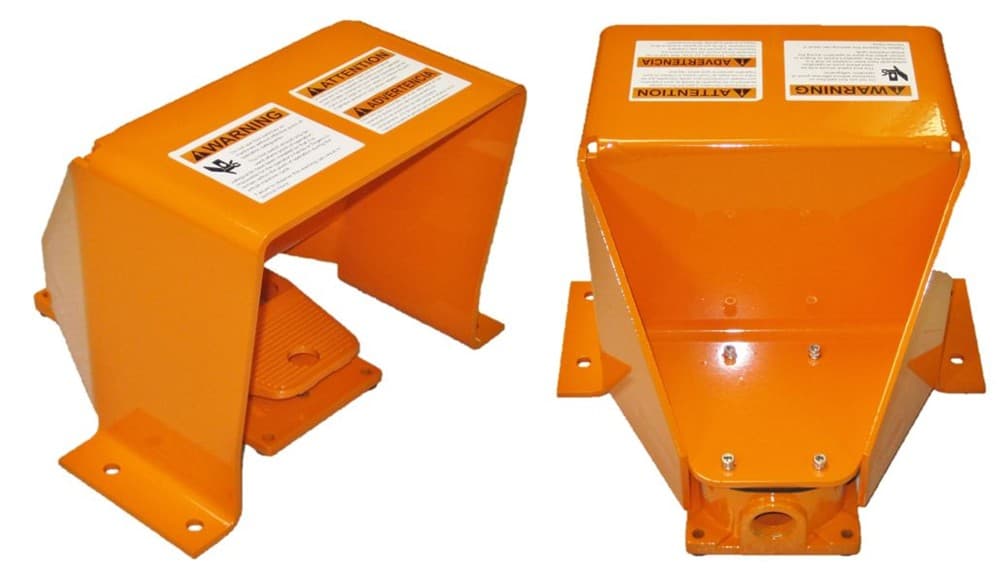 Optional Front Gate
The front gate provides an additional measure of safety. The user must first lift the gate before operating the foot switch. Note: This option cannot be used with the Oversized Guard option. This option also cannot be purchased alone or as a retrofit.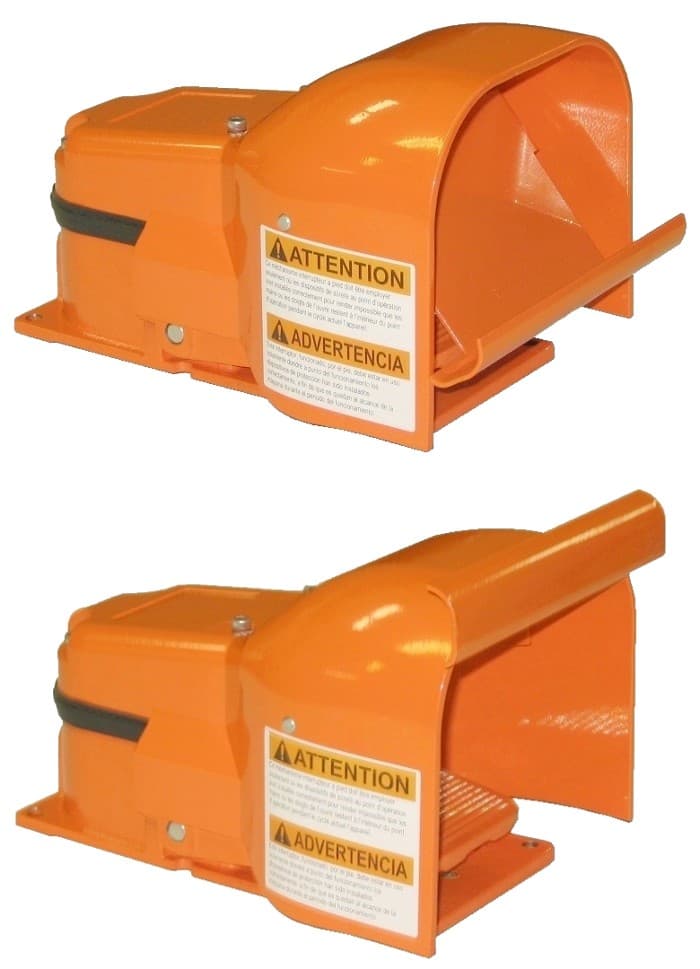 Optional Handle
Makes it easy to pick up and move around the unit. Note: This option is not UL marked.

Optional Carrier Base
Makes it easy to move around the unit, provides additional height above floor mats, and allows cable routing out the back or sides. Includes the base, handle with ball knob, and rubber bumper feet.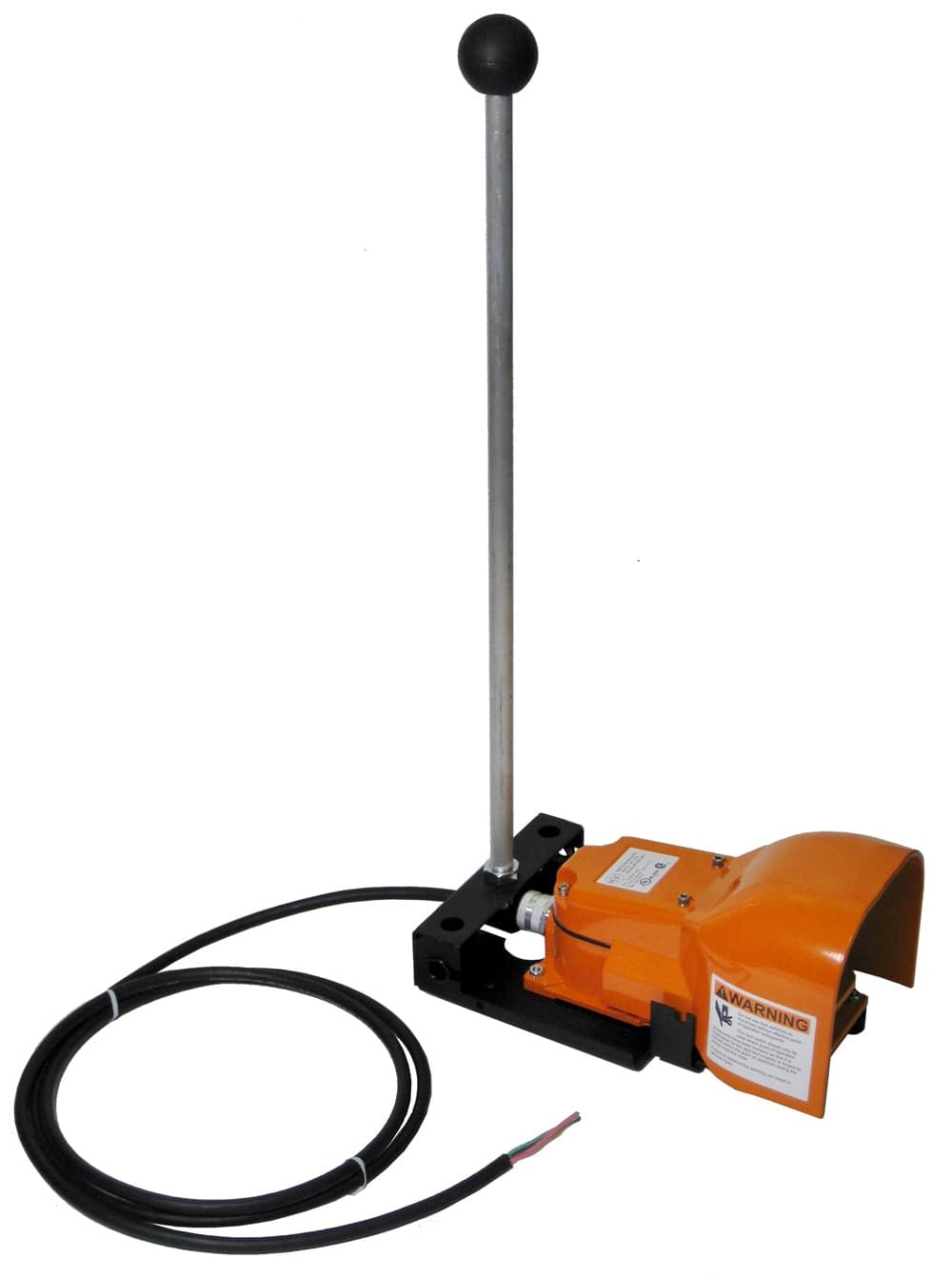 Dual Base Compatible
You can combine any two G-Series foot switches onto a single base platform for a dual pedal foot switch system. Consists of a rugged steel base with rubber bumper feet. Ideal for applications such as metalworking equipment, bend or press brakes, pipe rollers, scissor lifts, lift tables, positioners, twin pedal, up/down, and forward/reverse foot switch applications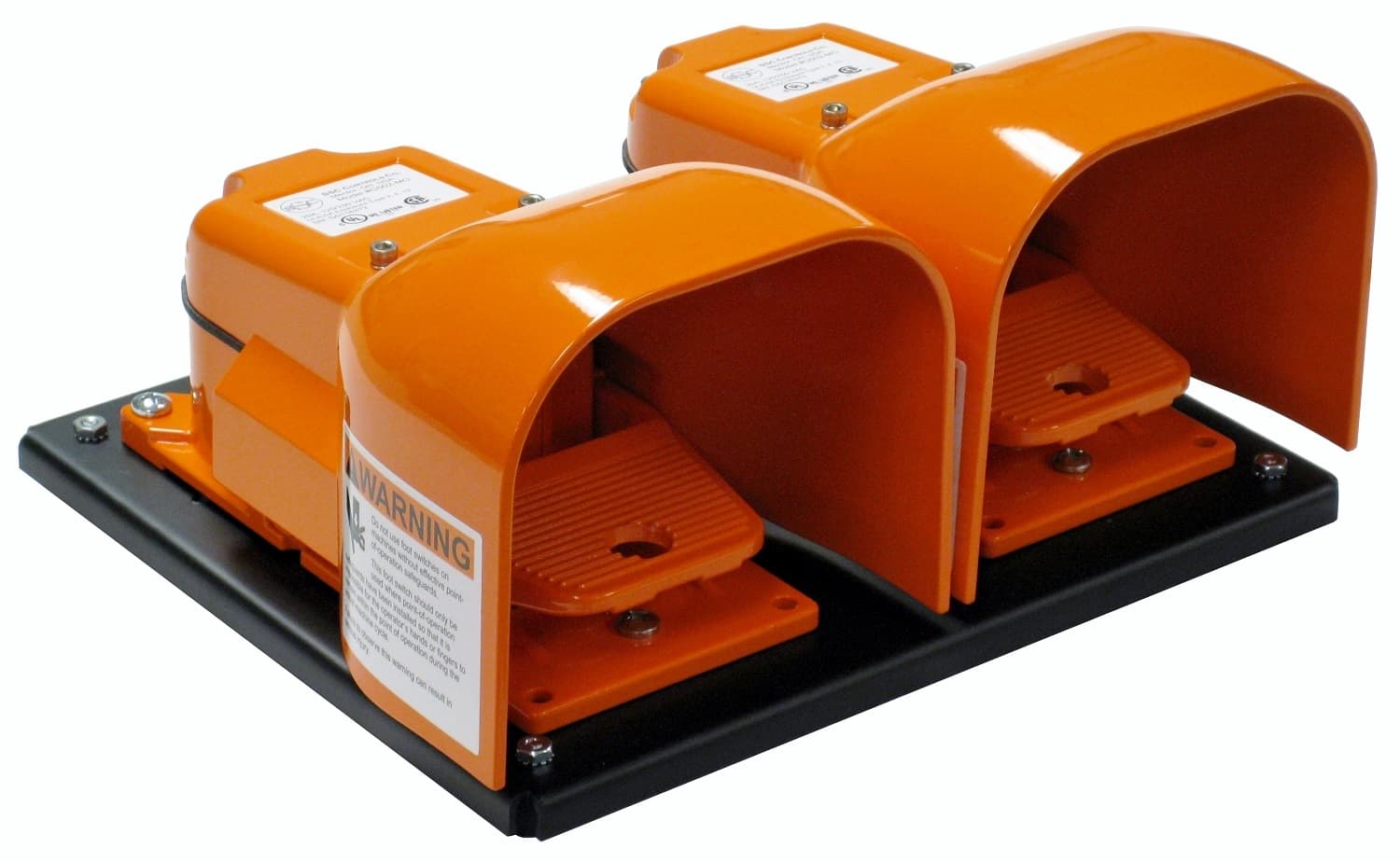 Features
Features
G503 Three Switch Models

Includes three switches (each SPDT) inside each unit. Switches can be adjusted to activate separately or at the same time.

G504 Four Circuit Models

Ideal for controlling up to four independent circuits, or for switching the circuits operating on different voltages. Each foot switch contains two DPDT switches (with two circuits per switch). The switches can be adjusted to activate separately or at the same time. Note: There is no Double-Break (Form Z) substitute available for the G504.
Need more information?
We can help.