Product Description
Description
The LMSCA22 measuring system is a perfectly tuned, pre-assembled complete system.
Ultra compact system with new spring-loaded arm, including WDGP 36A encoder and 200 mm measuring wheel
Up to 0.0125 mm/impulse for measurement results
Suitable for many surfaces
Absorbent mounting
Contact pressure - easily adaptable by intelligent central adjustment
Prose
Compared to other systems without this method, it depends on the skill of the assembler how much force is applied to the material. Depending on the surface of the material, you want to select the contact pressure as high as possible in order to exclude possible slippage and, on the other hand, you don't want to damage the material or the surface of the measuring wheel. With the toothing, you can give the technician a clear specification of how high the contact pressure should be, with up to 20 N in steps of 5 N. The spiral spring design ensures that the contact pressure is as high as required to avoid possible slippage.
The designed spiral spring ensures that the set contact pressure is permanently applied and also elegantly compensates for larger unevenness and ensures contact with the material at all times.
Depending on the desired area of application, the system with its detailed solutions offers some great benefits.
Small, Compact And Very Accurate
The LMSCA is only 120 mm long and equipped with a 36 mm diameter rotary encoder. The rotary encoder can provide (depending on the order number) 1 ppr up to 16,384 ppr and thus supplies the right number of pulses for your application. The LMSCA length measuring system achieves a resolution of up to 0.0125 mm/pulse. Alternatively, as an absolute encoder with the patented QuattroMag singleturn technology and EnDra - multiturn technology, the encoder can send e.g. CAN messages, RS 485 or SSI signals.
Can Be Mounted Anywhere
The encoder is fixed by a clamp, which allows the connector outlet to be positioned as desired. The encoder has a radial connector outlet. A mounting bracket with 2 elongated holes and a cross hole offers every freedom to mount the LMSCA perfectly.
Suitable For Any Surface
The measuring wheels with a circumference of 145/200 mm have different surfaces for use on all materials, such as plastic, PVC, painted surfaces, paper, cardboard, metal, textiles, carpet, rubber, foil, etc. with a contact pressure of up to 20 N in 5 N increments that can be precisely adjusted via the grid for optimum protection of the material vs. contact pressure.
Can Be Used Everywhere
The robust construction and the durable and stable bearing of the swing arm and the encoder are designed for a wide range of applications. Wherever a speed or position is to be measured, such as on an assembly line, in continuous production/measurement or in reversing movements at greater distances, the LMSCA is suitable as a reliable sensor.
In-line speed measurement for high quality marking of wood, cardboard boxes or packaged food or medicines with e.g. Date Code, Expired Date, Lot, etc.
In-line speed measurement for quality monitoring with cameras of e.g. foils, carpets, cables, laminates, pipes, décor.
In-line distance measurement for the determination of volume and tons with an additional sensor, e.g. for parcel services or in quarries.
In-line speed measurement for gluing cardboard boxes or foils
Speed and position measurement for storage and retrieval machines can also be realised with a pinion and a toothed rail
The compact LMSCA has a high protection class of IP67, at the shaft input IP65, is supplied with 4.75 to 32 VDC, delivers ABN and inverted signals in TTL or HTL or CAN, J1939, SSI or RS485 and can be connected via an M12 connector.
Quickly Mounted - Directly On The Machine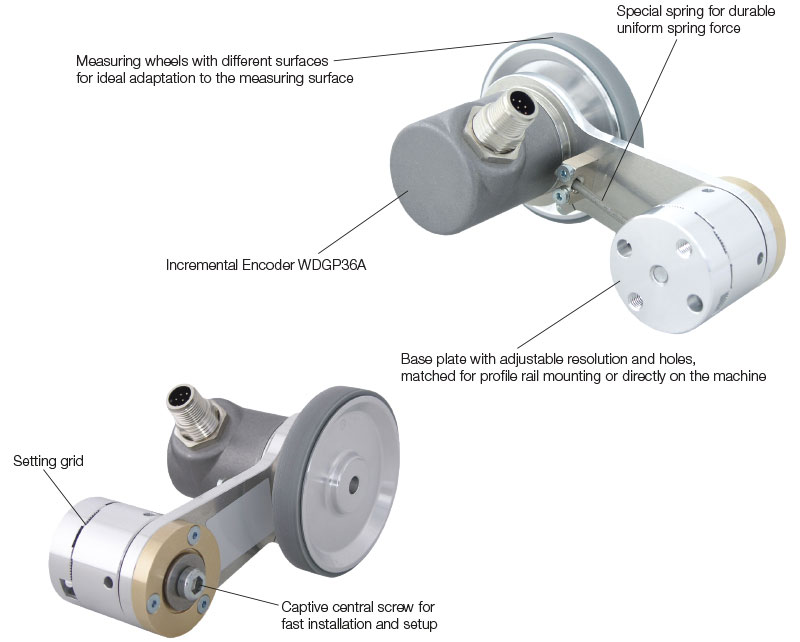 Specifications
For detailed specifications, refer to the LMSCA22 Data Sheet in Downloads or visit the manufacturer's website.
Need more information?
We can help.