Product Description
Wachendorff
Installation Kits
Motor Feedback
Motor feedback installation kit
Wachendorff
Installation Kits
Motor Feedback
Motor feedback installation kit
Description
Motors in production machines, mobile work machines or shelf systems, in medical technology or in production robots require a feedback signal, from a encoder, for example, to be able to get into position quickly and precisely.
The encoder can be mounted on the outside of the motor as a complete, closed assembly for larger motors.
Wachendorff's magnetic technology now makes it possible to equip smaller step or servo motors with an absolute encoder system. WDGA absolute encoder electronics have a compact design, which makes this possible.
An absolute encoder kit, which then can be integrated into very compact motors, was developed from this idea.
The Wachendorff kit offers clear advantages compared to resolvers, magnetic sensors with backup batteries and encoder kits with optical scans and gearboxes. Due to the higher level of robustness against vibrations and other environmental stresses as well as the faster assembly, the company Wachendorff is expecting another step of creative destruction, which they already predicted ten years ago with the introduction of the EnDra® technology.
Highlights
Motor Feedback of the Latest Generation
With a high 16-bit singleturn resolution and 43-bit multiturn, installation solutions are ideal for applications which are dependent on mechanical robustness and high accuracy. The interface submits the complete position value for evaluation. The singleturn position resolution for 16 bit is 65.536 steps per revolution. Depending on requirements, multiturn can resolve up to 43 bit. The maintenance-free installation solutions can manage without a gearbox and back-up battery This ensures that the mechanics have a high durability and they are environmentally-friendly — Thanks to EnDra®.
With EnDra®, no battery and no gears
Wide temperature range from -40 °C to +85 °C (+105 °C on request)
The highest dynamics (50µs) and accuracy (0.09°) in a magnetic system
Very small and compact design
High reliability
Complete encoder or installation set
Singleturn / multiturn
Possible interfaces for the motor circuit board: SSI, CANopen
The Function Principle of EnDra® Technology
Wachendorff WDGA installation solutions do not require a mechanical gearbox to record the number of revolutions and the direction of rotation. Instead, the revolutions are determined by an energy wire (EnDra®): A permanent magnet accumulates so much energy in the wire that 'revolution' and 'direction of rotation' information is transferred to the evaluation electronics at a defined position. An external energy supply e.g. via battery, is not required for this. As a result, the system works in a way that is fully independent, with no need for maintenance.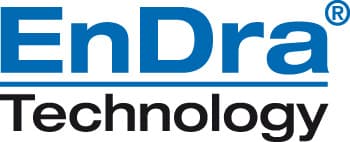 Ready-to-Use Rotary Encoder
The WDGA36A Closed Absolute Encoder or WDGA36E Closed End Hollow Shaft Encoder can be acquired from Wachendorff as a ready-to-use solution. With their 36 mm casings, the encoders are extremely compact. The encoder is directly assembled in the motor or on the motor shaft and connected to the motor circuit board via a cable. It is no longer required to start up the encoder separately in the motor. The encoder is ready-to-use instantly.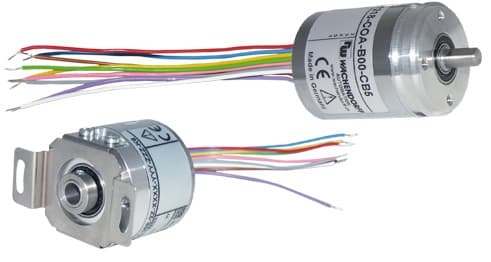 Installation Set
The installation set for the motor assembly, consists of a single/multiturn WDGA circuit board and the appropriate magnets. The motor function was designed to be electric, inductive and mechanic with this set. For instance, mechanical shielding in the motor takes place via an iron casing. The mass production commissioning requirements are defined by the client.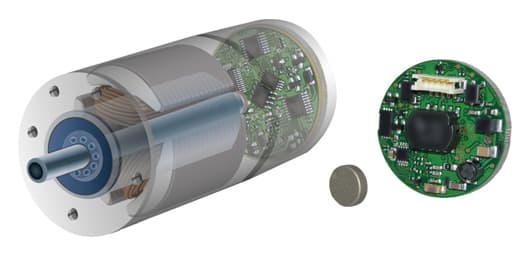 Specifications
Temperature Range

-40 °C up to +85 °C (+105 °C on request)

On-board Interface

A choice of SSI or CANopen, on request: BiSS-C and others

Overall Multi Turn Resolution

Dimensions (HxD)

WDGA36E-K6

37.1 mm x 36 mm (measured via a torque support)

WDGA36A-K6

31 mm x 36 mm (measured on the flange)

WDGA Installation Set

4.7 mm x 33 mm (circuit board only)
Need more information?
We can help.