Product Description
Description
Motors in production machines, mobile work machines or shelf systems, in medical technology or in production robots require a feedback signal, from a encoder, for example, to be able to get into position quickly and precisely.
The encoder can be mounted on the outside of the motor as a complete, closed assembly for larger motors.
Wachendorff's magnetic technology now makes it possible to equip smaller step or servo motors with an absolute encoder system. WDGA absolute encoder electronics have a compact design, which makes this possible.
An absolute encoder kit, which then can be integrated into very compact motors, was developed from this idea.
The Wachendorff kit offers clear benefits over resolvers, magnetic sensors with buffer batteries and encoder kits with optical scanning and drives. The significantly higher robustness against vibrations and other environmental impacts, as well as faster assembly, are particularly noteworthy.
Highest precision for high dynamic motion control
Compact design: Ø 58 mm
BISS-C, SSI with 19 bit single- turn and up to 2,048 sin/cos
Incremental up to 25,000 PPR
Electronic ID label
Highlights
Highest Precision For high Dynamic Motion Control
The WDGF was designed for the highest requirements. Even under extreme environmental conditions the WDGF operates reliably and provides highly accurate signals for the fast control of synchronous motors. The optical principle guarantees a fast and accurate measurement of position and speed. The rugged design ensures a high operational stability.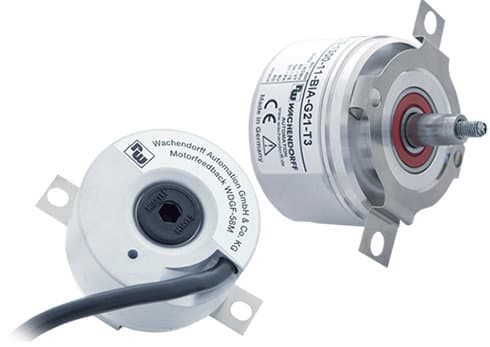 Specifications
Clock Frequency SSI/BiSS-C

Functions

Interversion of the Direction, preset, status LED

Resolution Singleturn Absolute

Resolution sin/cos

2048 ppr, optional 512, 1024 ppr

Resolution only incremental

Shaft

Cone 1/10, Ø 9.25 mm, L 16.5 mm

Permissible Shaft Load

Max. 80 N radial, max. 60 N axial

Power Supply

4.75 VDC up to 5.5. VDC

3.5 VDC up to 30 VDC

Protection Rating

IP67 all around, shaft sealed to IP65

Connection

Cable output, 2 m, tangential
Need more information?
We can help.