Product Description
Description
With the large selection of pulse numbers, output circuits, connector and cable varieties, protection classes and temperature ranges, you will find precisely the right incremental encoder from our extensive range.
TTL, HTL, sin/cos
High-performance LED or precise magnetic technology
High shaft load up to 500 N
Preventive maintenance with early warning output
Copes with tough industry and automotive conditions
36 mm diameter
Protection class IP67, at the shaft input IP65
High output frequency up to 1 MHz
Zero pulse can be set
Reverse polarity and short circuit protection at 4.75 VDC to 32 VDC
Prose
The new series of WDGP incremental encoders offer the customer a significantly high resolution of up to 16,384 ppr in a very compact design from 36 mm. This means that highly precise measurements can be realized in the smallest installation space. The series can be supplied with any number of pulses from 1 to 16,384 ppr and a zero pulse. The zero pulse can be freely set. The electronics delivers in HTL or TTL with a frequency of up to 1 MHz to the ABN signals also the inverted ones.
The robust stainless steel housing and the well chosen design give the encoder the high protection class IP67 with a protection class of IP65 at the shaft input. IP67 can also be realized at the shaft input via a sealing ring as an option. The all-voltage range from 4.75 VDC to 32 VDC leaves nothing to be desired and is protected against polarity reversal and short-circuits.
Depending on the product type, up to 220 N shaft load is possible. The series consists of shaft encoders and hollow shaft encoders with typical diameters of 36 mm and 58 mm with the mounting options commonly used in the industry. The WDGP incremental encoder is based on a patented magnetic sensor technology with highest accuracy and resolution.
The wide operating temperature range of -40 °C to +85 °C and the high resistance to other environmental stresses, such as vibration and shock, show that they have also been developed for use in off-road vehicles. The units are supplied with all standard connectors or with a typically 2 m cable and a radial or axial outlet and are optimally adapted to the mounting conditions.
Typical applications: wind turbines, storage and retrieval machines, automated guided vehicles, food, beverage and packaging machines, marking, labelling and printing.
Highlights
Shaft Encoders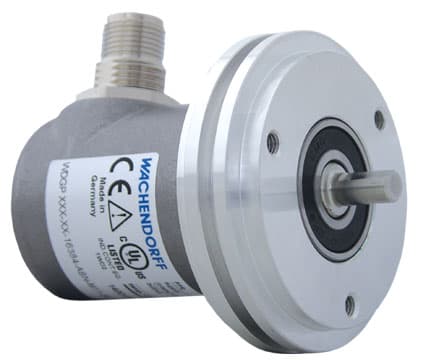 Hollow Shaft Encoders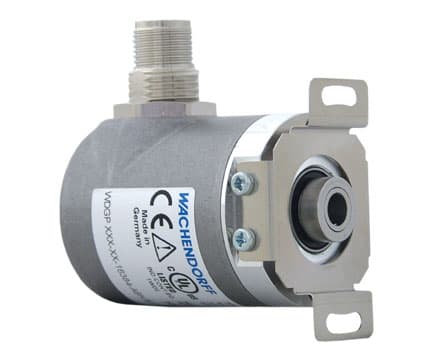 Need more information?
We can help.