Product Description
Description
The DF-Series dual pedal foot switch models add any two of the F-Series single foot pedal models onto a welded steel base with bumper feet. If you choose models without cables, then they will have a connector tube to route the wiring from one side to the other, with a single cable exit point. If you choose two separate models with cables, then they will be independent and not connected by the connector tube. Great for pipe rollers, scissor lifts, tube and pipe benders, lift tables, twin pedal, up/down, forward/reverse, and left/right foot switch applications.
Features
Combines two F-Series foot switches on a single base.

Sleek rounded design with a welded steel center divider.

One cable exit point with connector tube to route wiring from

Cable cord grip is included (fits up to .60" diameter cable).

Powder-painted black finish with bottom bumper feet.

Four exterior mounting holes for bolt-down option.

ISO 9001-certified quality system.

CSA Certified and UL Listed to US and Canadian standards

Made in USA of imported and domestic components.
Highlights
Optional Guard
The F-Series with Guards provide a tough powder-painted steel cover for any F-Series foot switch. The unit includes the foot switch enclosed in a tough 12-gauge steel guard. The guard provides a comfortable housing in which to locate the foot, as well as to protect the switch from debris.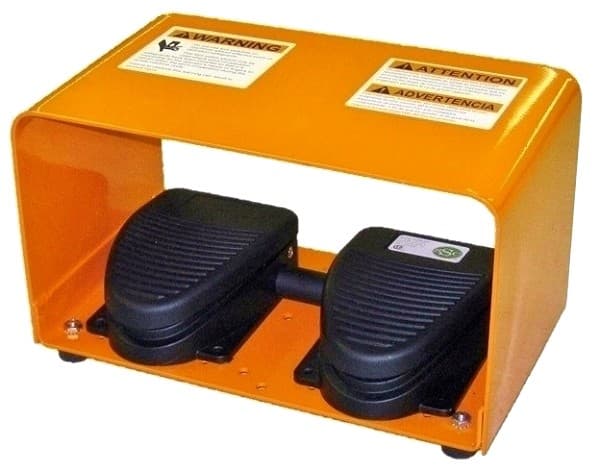 Need more information?
We can help.