Product Description
SSC Controls
F300-1501
Foot Switch
Medium-duty foot switch with a 15 Amp rating and cable with piggyback plug
SSC Controls
F300-1501
Foot Switch
Medium-duty foot switch with a 15 Amp rating and cable with piggyback plug
Description
The F300-1501 is a push-on / push-off foot switch with die-cast housing, precise pedal action, and attractive finish. Simply press the pedal once to turn it on, and press it again to turn it off (you can remove your foot and it will stay on until pressed again). Great for turning on and off home and shop tools, table lamps, general lighting, appliances in hard-to-reach places, and much more. This foot switch is also perfect for turning on and off Christmas tree lights without having to bend down — and you can use it all year long around the house for lights or shop tools with full 15-amp capacity. Simply insert the foot switch's plug into the wall outlet, and plug the device into the back end of the foot switch's piggyback plug, and you're ready to go.
Features
Die-cast housing provides superior appearance and durability.

Durable zinc alloy will not rust or easily break.

Powder-painted black finish with bottom traction pad.

Includes two exterior bolt-down holes.

Enclosure rating: CSA/NEMA Type 1; IEC 60529 IP20.

CSA Certified and UL Listed to US and Canadian standards

Designed and manufactured under an ISO 9001 certified quality system.
Highlights
Optional Guard
The F-Series with Guards provide a tough powder-painted steel cover for any F-Series foot switch. The unit includes the foot switch enclosed in a tough 12-gauge steel guard. The guard provides a comfortable housing in which to locate the foot, as well as to protect the switch from debris.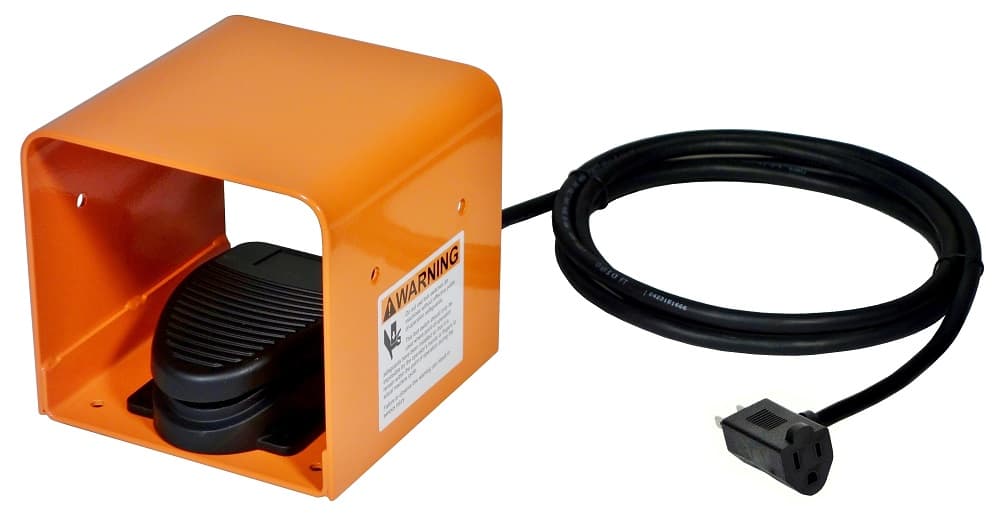 Optional Protective Boot Cover
The vinyl boot cover can be attached onto any single F-Series foot switch with no tools required. The boot cover adds a layer of protection to keep out dirt, dust, light overhead dripping water, and other undesirable elements. Note: It does not make the foot switch waterproof or submergible, and it does not change the NEMA Enclosure Type 1 or IP 20 rating of the F-Series. It is made of Plastisol PVC material.
Dual Base Compatible
The DF-Series Dual Foot Switch allows the combination of two F-Series foot switches on a dual base, with a connection tube to route the wiring from one side to the other, and one cable exit point.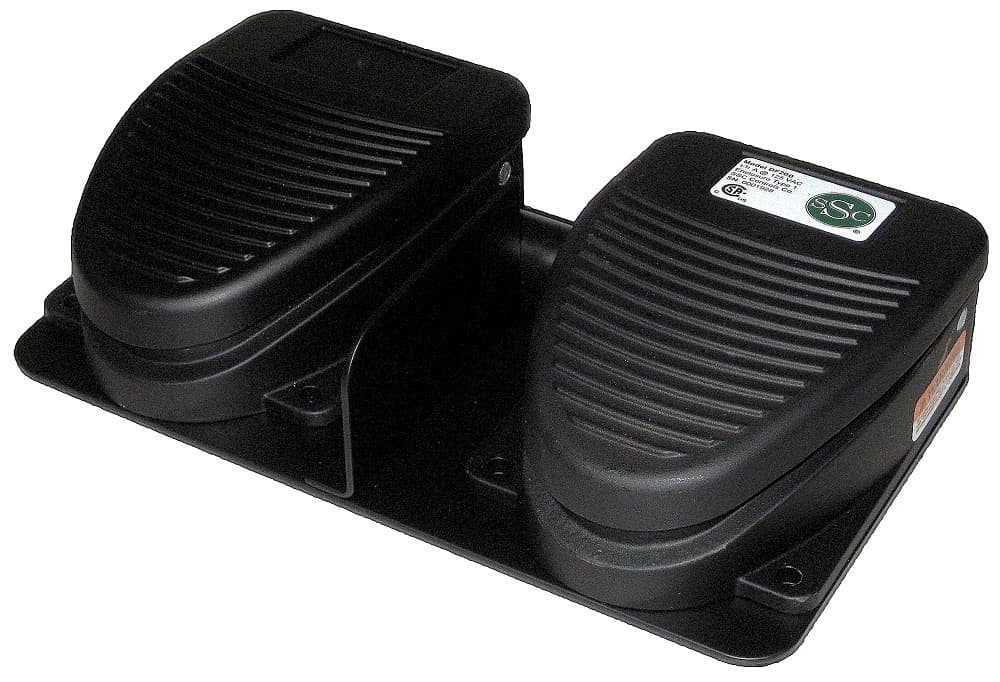 Specifications
Rating

15 A, 125 VAC; ¾ HP, 125 VAC

Cable

8 ft cable with piggyback plug for wall outlet

Dimensions

4.8 x 3.5 x 1.7 in (12.2 x 8.9 x 4.3 cm)

Enclosure Rating

UL/CSA/NEMA Type 1 and IEC 60529 IP20

For indoor use in dry environments.

Certification

CSA Certified to US and Canadian standard
Need more information?
We can help.